Welcome to EleMag at LPEM, ESPCI Paris!
Our group focuses on the study of strongly-correlated electron systems (typically oxides), which feature a large array of exotic electronic states such as high-temperature superconductivity and anomalous metallic states. Using several experimental techniques (transport, thermodynamics, Nuclear Magnetic Resonance...), we aim at characterizing and better understanding these electronic states, both at low (cryogenic) temperature and in high magnetic fields.
We are part of the LPEM lab, itself a joint research unit of ESPCI Paris (our host), CNRS, and UPMC (Pierre and Marie Curie University).
HIGHLIGHT: Competition for nanoscale territory between magnetism and superconductivity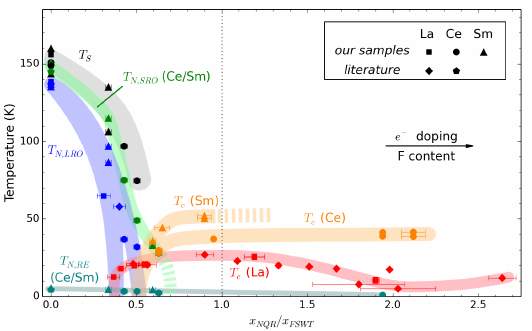 The most promising superconductors (materials which display ideal electrical conduction and magnetic field cancellation) are often chemically similar to magnetic materials, suggesting that it is crucial to understand the cross-over from magnetic to superconducting behavior. The corresponding phase diagram (the evolution of the electronic properties when changing the doping, i.e., the number of available electrons) can however be misleading due to the frequent uncertainty on the actual composition of the studied compounds. Here, we show that the nanometer-scale electronic variation intrinsic to some iron-based superconductors allows us to redefine the doping with high accuracy and precision, yielding a detailed reference phase diagram. From the then quantitatively correct variations of the structural, magnetic, and superconducting quantities, we reveal the spatial competition, on a nanometer scale, of superconductivity and magnetism: the weakening and loss of magnetism through dilution allows for the apparition of unconventional superconductivity, which tends to spill over ('proximity effect') the whole material. In addition to this comprehensive experimental description of the competition of electronic states in a family of superconductors, our study provides a reference frame for future work and to revisit previous results.
Spatial competition of the ground states in 1111 iron pnictides
G. Lang, L. Veyrat, U. Gräfe, F. Hammerath, D. Paar, G. Behr, S. Wurmehl, and H.-J. Grafe, Phys. Rev. B 94, 014514 (2016)
HIGHLIGHT: Confinement of superconducting fluctuations due to emergent electronic inhomogeneities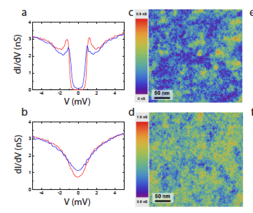 How a disordered superconductor evolves into an insulator is still a matter of intense debate. Disorder and reduced screening of Coulombic repulsion may simply break the pairs or, alternatively, the Cooper pairs themselves may localize. Between these two extreme cases there can be intermediate behaviors that emerge giving rise to intermediate scale inhomogeneity with anomalous properties. Thin NbN films indeed display such ambiguous character as revealed by Scanning Tunneling Spectroscopy and transport experiments. While STS shows inhomogeneity on a scale much larger than that of the intrinsic nanocristalline structure, conductivity fluctuations near the SC-I transition have on the same large scale a zero-dimensional character similar to the one previously found only in granular systems. This can be interpreted in terms of incipient localization of the pairs before, closer to the superconducting transition temperature, they eventually escape from the incipient localization and evolve into the superconducting condensate.
Confinement of superconducting fluctuations due to emergent electronic inhomogeneities
C. Carbillet, S. Caprara, M. Grilli, C. Brun, T. Cren, F. Debontridder, B. Vignolle, W. Tabis, D. Demaille, L. Largeau, K. Ilin, M. Siegel, D. Roditchev, and B. Leridon, Phys. Rev. B 93, 144509 (2016) Editors' Suggestion